Dr. P. Benjamin Nikravesh, DPM
Board Certified Doctor of Podiatric Medicine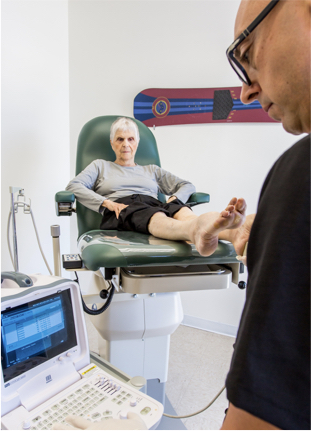 Dr. Payam B. Nikravesh, better known as "Dr. Nik" to his patients, is a highly regarded podiatrist in the greater Los Angeles area. Dr. Nik is best known for being one of the few double board-certified podiatrist and feet surgeons. He is a diplomate of the American Board of Foot as well as Ankle Surgery and the American Board of Podiatric Orthopedics and Primary Podiatric Medicine. In addition, Dr. Nikravesh is imaging certified, allowing for x-rays, diagnostic ultrasounds, and therapeutic ultrasounds at his clinic when necessary. He prides himself on being on top of the latest in foot care innovations and surgery, to provide the best care possible for his patients.
Dr Nik's Approach to Podiatric Medicine
While a small portion of the body, conditions of the foot and ankle can hold big implications. Dr. Nik has experience integrating pathology, neurology, cardiology, endocrinology, and immunology -- all in conjunction with podiatry.
Our approach to your health includes utilizing innovative techniques backed by scientific evidence and positive patient reviews. Dr. Nik's team always approaches patients with a friendly and welcoming personality. We'll gather a complete medical history, perform a full physical evaluation, and consider each symptom as it affects your lifestyle. We even offer special regenerative medicine treatments, such as stem cell therapy and platelet rich plasma injections.
Education
Dr. Nik completed his Bachelor's in Science, Cell, & Molecular Biology at California State University at Northridge. He then went on to become a 1996 graduate of the acclaimed California College of Podiatric Medicine in San Francisco, California. After receiving his degree, he trained in a highly regarded surgical residency program at Pacific Hospital in Long Beach, CA. During his time there, he held the title of residency director. Because of his love for learning, Dr. Nik continues to teach residents as a surgical and clinical instructor at Cedars-Sinai Medical Center.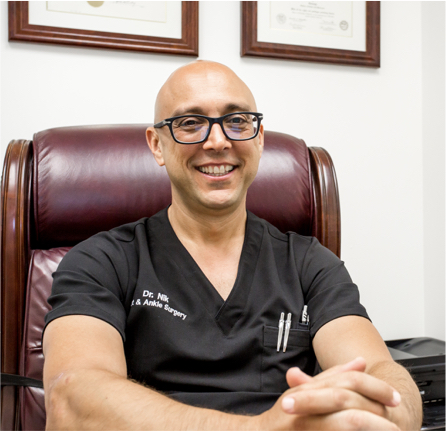 Professional Affiliations
While Dr. Nik was a clinical instructor, surgical instructor, Director of Clinical Affairs, and Director of the PPMR Residency Program at the Pacific Hospital of Long Beach, he is currently affiliated elsewhere. He is proudly associated with Cedars-Sinai Medical Center, located in Los Angeles, CA. Because he trains residents, he is also personally connected to a multitude of medical professionals across the city. He has been published repeatedly in The Foot and Ankle Review, the Journal of the American Podiatric Medical Association, Beverly Hills Weekly, and Los Angeles Mom Magazine.
Honors & Awards
In addition to his various publications, Dr. Nik has been granted the honor of presenting many lectures and appearing on national television. His first lecture was given in 1996, the same year he graduated podiatry school. He has spoken for decades on heel spurs, ankle sprains, fungal treatment, diabetic foot care, and generalized podiatry. National news stations began featuring Dr. Nik in 1999. He has since been interviewed on KABC-TV Los Angeles, FOX 11 News, ABC Eyewitness News on Channel 7, KTLA, and TAPESH International Television and Satellite Access station.
Reviews
"I learned to live with the pain in my legs and back for a long period of time. I then decided to do something about it after many years and Dr. Nik was recommended as the best. They are right. The man is awesome. I have been walking pain free now for the past 2 months since seeing Dr. Nik. I literally had to re-learn how to balance my weight, body alignment and I do not have any pain in my legs and feet after a long day at work. Thank you Dr. Nik, you are as advertised."
"I want to thank Dr. Nik for saving me on two different occasions. In 2010, a fractured left ankle and last week, a torn ligament and tendons on left leg. He is extremely caring and to the point with the diagnosis and prognosis. Thank you. I appreciate everything you have done for my quality of life."
"Dr. Nik is the nicest doctor this side of the Mississippi! He has a great disposition with kids. At our initial office visit my son Miles did not want to leave. Miles looked forward to the follow up visits because Dr. Nik has an ease with kids. Dr. Nik is very knowledgeable in his field."
"I've had lingering foot issues on and off for more than a decade, and hadn't found a new podiatrist since moving to LA. I found Dr. Nik through the Blue Shield site and feel like I hit the lottery. He's straightforward and attentive, and I got top notch care."
"Dr Payam Nikravesh is the best doctor. Very caring and knowledgeable. He listens and spend as much time as you want. Not like most doctors who give you 5 min to talk. His orthotics are top notch. Friendly office staff. I had a great experience each visit. Will definitely recommend him. Also his products which he made himself is amazing."
"Dr. Nik is great at what he does. Loved him! He explains everything and doesn't let you go with doubt. The ladies in the front are so nice and empathetic, they explained my insurance very well. Totally recommend them , they are super good and most importantly im not in pain anymore!!!!"
Start Living Better Today!
Do you have any questions about Dr. Nik or our general services? We are always here and ready to help. Get in touch today.