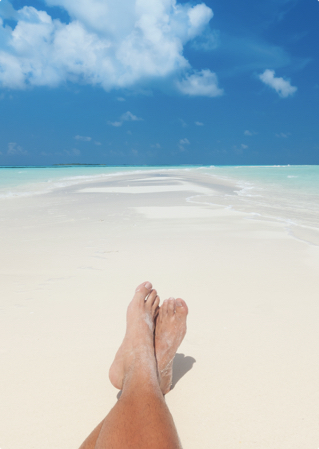 Feel Better With Our Toe Treatments & Surgery
You only have ten toes, but sometimes, it feels like a million things are going wrong. While thousands of Americans suffer from foot pain, approximately 10% of them never do anything to treat it. At Dr. Nik's, treating your feet comes first. Our team will have you wondering why you didn't come in sooner.
Book
An Appointment
Treatments for Toe Conditions
Treatments for toe conditions vary from minimally invasive to surgical. Our team will help decide which is right for you.
Book An Appointment
Laser Treatment
Laser treatment is a safe, new technology proven to be more effective than its side effect-riddled conventional counterparts. It is used most often for the treatment of toenail fungus, where lasers penetrate down to the nail bed to kill spores. Our team also uses laser treatment for scars, warts, neuromas, fibromas, and ingrown toenails.
Bunion Surgery
Bunions are irreversible, therefore treatment is vital for pain-free walking. While noninvasive measures may be suggested, surgery is the most common and often resolves the problem. Depending on the severity, different surgeries are available. Your care provider will discuss all options with you to pick the best treatment plan.
Hammer Toe Surgery
Hammer toes cause irregular bending at the proximal interphalangeal joint. Patients often develop them as a result of muscle imbalances, gait abnormalities, and as a secondary condition that accompanies bunions. Sometimes, these toes are capable of being fixed noninvasively with physical therapy and orthotics. Once the joint loses mobility though, it becomes a "rigid" hammer toe and requires surgery for permanent pain relief.
Diabetic Foot Wound Care
Diabetic wounds, especially ulcers, run a high risk of becoming infected. Infections of extremities often result in amputation for patients with diabetes. Our local wound care includes removal of any dead skin and tissue, called "debridement," as well as medication application, dressing of the wound, and ulcer prevention.
Why Choose Dr. Nik?
Our team specializes in medical and surgical treatment of the foot and ankle. While toes are the smallest, their role in motion is essential. Many people accept their toe pain as normal. Not seeking medical assistance early on allows conditions to progress. In order to prevent invasive treatments, we recommend making an appointment at Dr. Nik's now.
Meet Dr. Nik
Our Podiatry Services
Dr. Nik's strives to deliver the finest, most cost effective podiatric health care available. If toe treatments and surgery aren't quite what you need, don't worry: we do more.
Start Living Better Today!
Do you have any questions about Dr. Nik or our general services? We are always here and ready to help. Get in touch today.